28.05.2021
Briançon7: Prosecution asks for suspended jail sentences for seven activists
Just like in the Central Mediterranean, in Greece or in the Balkans, illegal push-backs and the systematic violation of fundamental rights of people on the move are common practice also at the French-Italian border. Just like at the other places, it is those that expose and fight against these crimes who are treated as criminals instead.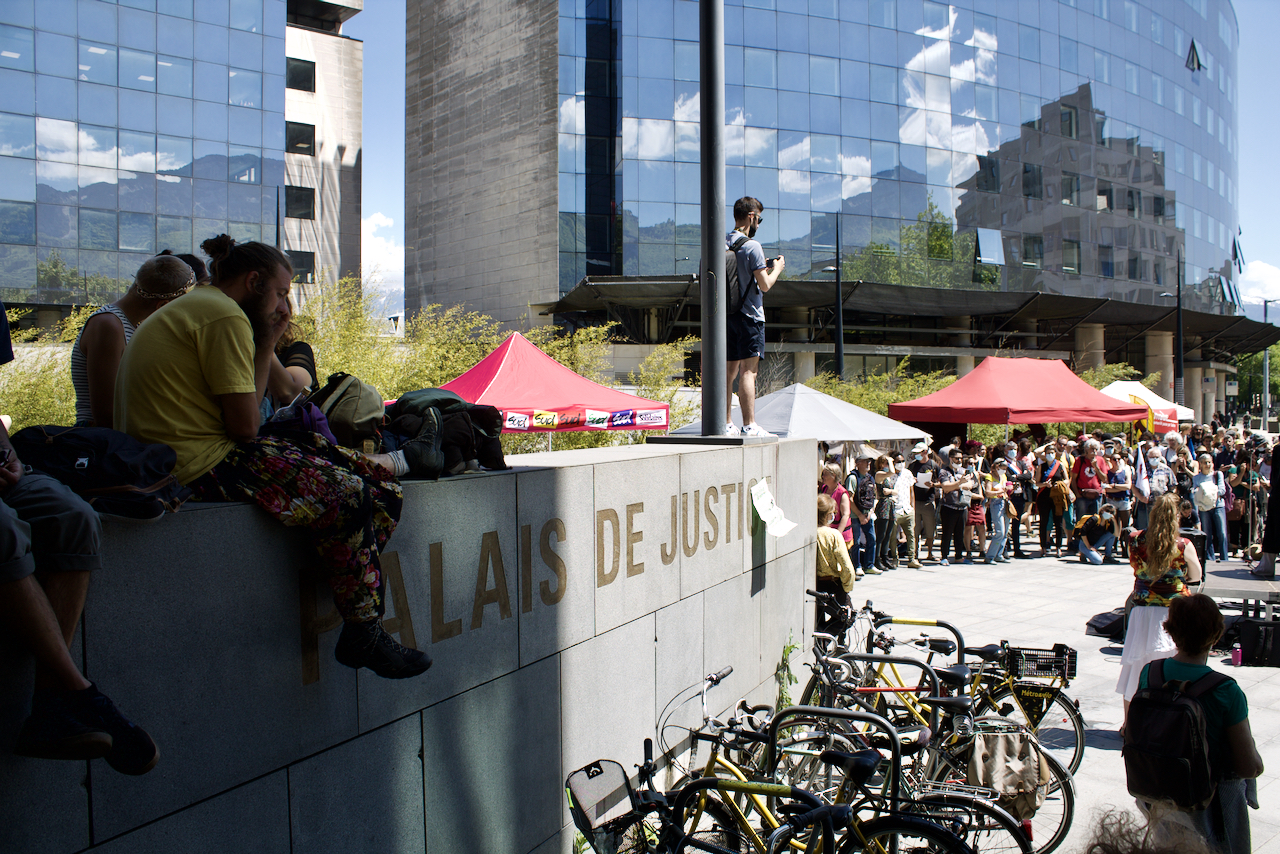 For years, France has massively militarised its borders, trying to prevent people from crossing no matter what the cost. Border forces illegally intercept and return people to Italy, denying them their fundamental rights, including the systematic forging of birth certificates to turn children into adults.

Knowing this and that they will be chased like criminals, people on the move are diverting to ever higher mountains and more dangerous routes to get to France. Especially when snow falls, many of these routes become life-threatening. People regularly suffer frostbite, some have even lost their lives.

To make things worse, the right-wing extremist "Identitarian Generation" organised a "border closure" ("defend Europe") along the Alps in 2018, including helicopters and fences. The police did not intervene. When hundreds of people from the surrounding area gathered to protest against the fascist action, some 20 migrants took the chance to cross the border safely. The police used this as a welcome excuse to specifically arrest seven activists who had been a thorn in their side already for some time, accusing them of "aiding illegal entry in an organised gang". The Briançon7 were found guilty and sentenced to jail in 2018.

On Thursday, 25th May 2021, their appeal trial took place in Grenoble. Together with the Iuventa Crew, we were there to show our solidarity with the Briançon7 and the struggle against the European border regime there.

The prosecution is asking for 3 months suspended prison for 6 of the defendants and 8 months suspended prison sentence plus a 30,000 euro fine for the seventh. The verdict is expected for September.
What is the message of these trials and sentences? Basically, the court is saying: before you help someone, ask the person for their papers. And if they don't have valid papers, don't help them.
No matter when and no matter where, we will always oppose such an inhuman system! Whether on land or at sea: Solidarity will win!
---
More information:
Friday, 28th May 2021