EU's externalised borders: push-backs to Niger
Algerien schiebt weiterhin Migrant*innen und Geflüchtete nach Niger ab. In Assamaka, an der algerisch-libyschen Grenze, hat die IOM Anfang April die ersten Quarantäne-Stationen aufgebaut (1).

Am Ende des Monats gab es Proteste und Aufstände in den Lagern gegen die unerträglichen Unterbringungsbedingungen, sowie gegen die Verhängung unbegrenzter Quarantäne. Ein Konvoi von Agadez nach Libyen wurde an der Grenze gestoppt. Laut IOM haben die Fahrer ihre Autos stehengelassen, laut Recherche von Alarme Phone Sahara wurde der Konvoi von libyschen Militärs wegen Corona gestoppt. Der französische Militärstützpunkt in Madama (nur wenige hundert Kilometer vor der libyschen Grenze) wurde Auffangstation (2). Die Berichte legen nahe, dass es nun unter dem Vorzeichen der Bekämpfung von Corona eine Kooperation zwischen dem französischen und libyschen Militär gibt.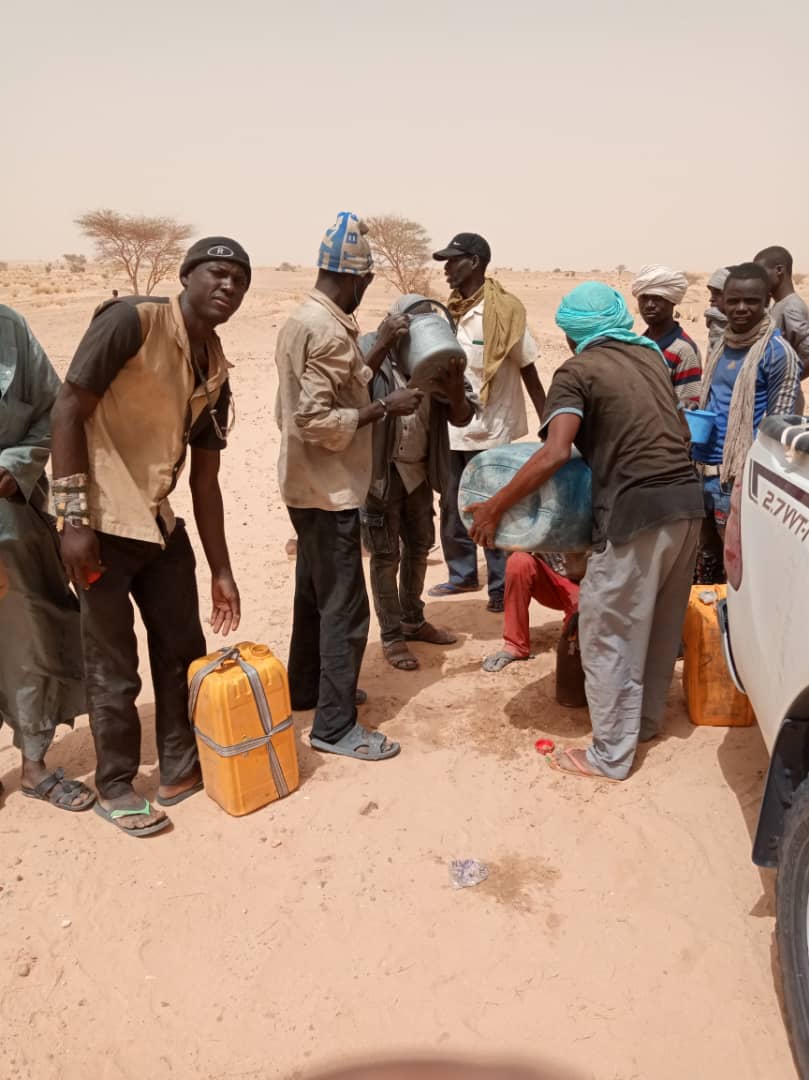 Auch die Grenze zwischen Libyen und Tunesien wurde zeitweilig völlig geschlossen. Zum einen im Zuge der Kämpfe zwischen dem Militär der GNA (Government of National Accord),  lokalen (Amarzigh) Milizen und den Truppen von General Haftar als auch aufgrund der Ausgangssperren, die wegen Corona verhängt worden waren. Das Hauptlager in Tunis "Al Wardia Reception and Orientation Centre", offiziell zur Versorgung von Migrant*innen gedacht, hat sich zum Abschiebungslager entwickelt (3). Migreurop berichtet von Sammel-Rückweisungen ("Refoulement") an der tunesisch-libyschen Grenze (4).
 
---

Zur weiteren Vernetzung und Monitoring in der Sahara und dem Sahel haben wir von der Stiftung Nord-Süd-Brücken Mittel für Menschenrechtsmonitoring des Gatroun Human Rights Centers in Libyen sowie für Radio Koode in Nigeria, das grenzüberschreitend im Sahel auf Fulfulde sendet, bekommen.
 
type="text/css" type="text/css"
(1) https://observers.france24.com/en/20200428-migrants-niger-protest-quarantine-without-end-covid19
(2) https://www.aljazeera.com/news/2020/04/hundreds-migrants-stuck-niger-coronavirus-pandemic-200409131745319.html
(3) https://eu.boell.org/en/2020/06/05/how-coronavirus-has-worsened-plight-refugees-tunisia
(4) http://www.migreurop.org/IMG/pdf/politiques_du_non-accueil_en_tunisie_f.pdf